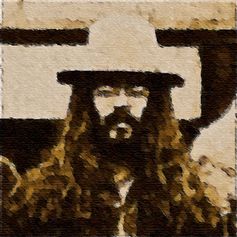 The singer-songwriter known as Huckle was born Kelly Cavanagh in 1954 and grew up in Montreal and Toronto. He moved west to Gabriola Island in 1973 and adopted the name Huckle. He helped organize two western tours by Perth County Conspiracy (dne), performing the warmup act for some of the shows. In spring 1974 on the first of the tours a live recording was made of eleven original Huckle songs with Gary McKeehan engineering. Nine songs were recorded live after soundcheck for Perth County's Vancouver concert at Pender Auditorium March 1974. The band included Huckle (vocals, guitar, mandolin) with Richard Keelan (guitar, vocals), Michael Butler (bass), George Koumantaros (congas), Paul Gellman (vocals, fiddle, guitar), and Wende Sinclair (vocals, bamboo flute). Two more songs were recorded live on stage at Gabriola Hall the next night. These tracks became Huckle's first album release "Upon a Once Time". 500 copies were pressed and mostly sold off the stage at concerts. One of the very first "indie" records, it has now become rare vinyl and sells for a lot more than it did when it was new ($3).
In summer 1974 Huckle moved to Salt Spring Island and joined the wildly popular local band Sodbusters. They threw boogies at community halls on Vancouver Island, the Gulf Islands and the mainland. They also had a grant to tour and perform in BC prisons and work camps. That fall they recorded an album with Si Garber in Vancouver, now also rare vinyl.After wintering in Central America, a summer 1975 tour in eastern Canada included performances by Huckle at many folk festivals (Home County, Northern Lights) and folk coffeehouses (Black Swan, Yellow Door). Paul Gellman and Huckle did a caravan cross Canada tour that fall, with Laura, Cathy, Sam and Jeremy, and Sally Sunshine along, and landed back on Gabriola Island. Huckle and Paul formed a band, Wild Blue Yonder, with Wende Sinclair, Tom Agostino, and Straw. They did a western Canada tour in spring 1976 including a live radio show at the Hovel in Edmonton with Holger Petersen. A third tour in fall of 1976 as a duo with Tom Agostino introduced the second Huckle album "Wild Blue Yonder", now, you guessed it, rare vinyl. Recorded live and in the studio, the band included Huckle (vocals, acoustic and electric guitars, flute, piano), Paul Gellman (vocals, fiddle, guitar, piano), Wende Sinclair (vocals), Tom Agostino (vocals, bass), Straw (wooden drums), Bob Walshaw (drums). 300 copies were pressed. Also that year Huckle performed on the national CBC radio show Touch the Earth with Sylvia Tyson and Bill Garrett.
In 1977 Huckle moved back to Salt Spring Island and began performing solo again, mostly in Victoria. This led to the formation of Real Fantasy Band. He teamed up with some jazz fusion players (including Hugh Fraser), and played festivals and shows with them for three years. Huckle's third album "Real Fantasy" had band recordings on side one and acoustic solo tracks recorded at Michael Grieve's Keye Studio in Victoria on side two, released on cassette only.
PRESS & REVIEWS

HUCKLE
Upon a Once Time
****
Wild Blue Yonder
****
Mapache Records
 
These two excellent albums by Canadian hippie folky Huckle (ne Kelly Cavanagh) and cohorts (including a member of Perth County Conspiracy) were pressed in miniscule quantities when privately pressed in 1974 and 1976 respectively. Upon a Once Time was recorded piecemeal over various locations and is a natural organic delight, which has the same joie de vivre about it as the debut Heron album (notably the sweet Beyonder). Mainly acoustic and firmly in the fireside tradition the love, peace and stoned vibe is both sincere and consoling. Although touching on its key inspirations without caution the album brims with freak celebration - and more importantly decent tunes and songwriting. Wild Blue Yonder expands the instrumentation slightly with a bolder sound, verging on Van Morrison and The Band at times, whilst maintaining the same overall philosophy and spirit of the debut.
JON "MOJO" MILLS in Shindig
HUCKLE
Upon a Once Time (1974)
Wild Blue Yonder (1976)
Mapache - Wah Wah
 
Now here is a real discovery. It's great there are now reissues of classical and pop albums, seminal pieces of the history of rock, punk, techno and hip hop, in regular or deluxe editions, with additional songs and alternate takes, and remastered from the original tapes. But even better is rescuing forgotten works, hidden from our view, albums of interest we know little about. The two albums released by Huckle are in this category. Independent and existing outside the general history of rock (psych folk in this case), the Canadian Huckle recorded his first album Upon a Once Time (1974) with little money, releasing 500 copies and selling them at his shows. With the second, Wild Blue Yonder (1976), he released only 300 copies. The internet now has many references to Huckle, who also has his own webpage, but until now he has been less well known than Sixto Rodriguez, and copies of his albums became collector's items on the rare vinyl market. These two reissues from Mapache Records are beautifully pressed on high quality vinyl, but there was also a third Huckle release. Real Fantasy, released on cassette only, showcases a musician very much of his time, a little bit revolutionary, a bit of an innovator, mellow and smooth. The themes of both albums follow the format of solo voice/guitar or full band, with some echoes of Tim Buckley, Neil Young and Incredible String Band. Covering a familiar folk landscape with accompaniment of congas, lightly plucked acoustic guitars, and sprinklings of flutes and violins with delightful ornamentation (particularly Gabriola Day from the first album), the second album adds electric guitar, syncopated rhythms, and a move more towards American style folk rock.
QUIM CASAS in Rock Deluxe
GEMS OF FORGOTTEN FOLK
 
The brothers Resines are in charge of Mapache Records, producing reissues based in Barcelona, with Dani Resines the elder brother heading up the projects. After their efforts this past year with the reissue of Heron's two albums, now comes their second venture, the complete works of Canadian singer songwriter Huckle, and the fourth album of Baltimore folkie Bob Lind, two artists who were part of the folk explosion of the 60s and 70s in North America. Huckle deserves special mention. He was one of those hippies who was part of the flower power generation of the late 60s. Working completely independently and performing in concerts and coffee houses, he was a true bohemian. His first album, Upon a Once Time, was recorded live in 1974 while on a western Canada tour with the group Perth County (from eastern Canada). With limited time for mixing and mastering, they created an album of perfect folk, unadorned, intimate, with beautiful textures, on a level with the first works of Loudon Wainwright III. The second album, Wild Blue Yonder, was recorded two years later with a band while touring Canada. It leaned more towards a rock style, with some songs featuring violin, carrying his sound at times into the territory of Dylan circa Desire and Fairport Convention of Liege & Lief era. Only a few hundred copies of each album were pressed, and since then have been sold for astounding prices on the internet.
ANDREU CUNILL in Ruta 66
HUCKLE (Vancouver, Canada)
Upon A Once Time 1974 (Homespun FO 2128)
Huckle's rarely seen debut contains some of his best material. His band of cosmic hippies are spiritual earth creatures that embrace Mother Nature as their goddess, a mindset evident in their music. Songs like Hello Sunshine, Ocean and Flowers have lyrics that reflect their way of life. The live-recorded organic folk and folkrock has a turned-on feel, ranging from plain acoustic and vocals to a full band sound with electric lead guitar on one track, and in between a few songs with just Huckle, flute, hand-drums or second guitar. The music has enough variety in mood, tempo, and instrumentation to keep the listener's attention. Fans of this style will find Upon A Once Time a solid listen with only a couple of second tier songs. One of my favorites is Beyonder (The Hymn), an intriguing mix of acoustic guitar, mandolin and banjo. Huckle switches gears on this song and sings in a falsetto that has an uncanny resemblance to Neil Young. Add the warm background vocals and it is a bona fide winner. Then there's The Minstrel Song, an upbeat folkrocker with backing vocals, acoustic rhythm, electric lead and bass guitars and hand percussion. The lead guitarist has a mesmerizing serpentine technique here that reminds me of the Drendall & Thrower LP. Another catchy tune is Get Down, which opens with hippies chatting and babies crying, before Huckle mumbles something about organic song and B.C. homegrown, after which the song kicks off with two well-strummed acoustic guitars rallying together at a steady pace as vocals ramble about coming together and bucking down during hard  times. The song is full of positive energy that gives the urge to sing along. Upon A Once Time is a rarity way overdue for a carefully done vinyl reissue. If you get the chance to hear it, be sure to obey the advice on the album's rear paste-on: This Music Should Be Listened To In A Higher State Of Consciousness!

Scott 'Loopden' Bubrig

Review from The Acid Archives, Second Edition, by Patrick Lundborg 2010.
 
A great set of rare Canadian psych folk from the early 70s, a rawly beautiful work that's way too good to have languished in the purgatories of general obscurity and collectors' hopes and dreams! Upon A Once Time is an all acoustic set, a good deal of it just Huckle's airy voice and guitar, plus some fiddle, mandolin and other spare accompaniment. It's warm and inviting songcraft, too, as opposed to some of the weirder obscure post-hippie sounds of the period, the kind of record that really deserves an audience! Includes "April", "Beyonder", "Lady Goldberry", "The Minstrel Song" and "Ocean".
Dusty Groove
 First ever vinyl reissue project of Canadian hippy folker Huckle. This first album was recorded with only accoustic instruments in spring of 1974 with the help of some of The Perth County Conspiracy members and had a very limited release. This is one of the finest psych folk albums of the Canadian scene from the 70's. An extremely rare and difficult to find record. It appears on Pokora's Record Collector Dreams Book with 4 stars, and collectors have paid more than $600 for the originals of this impressive crossover between the first Dylan and the first Van Morrison. Beautiful songwriting and great performance for a folk masterpiece that includes "Flowers", "Beyonder" and "The Sunshine Shuffle".
Record Heaven
HUCKLE - Wild Blue Yonder (Homespun) Canada 1976 
The second of the 2 great lost Canadian psych folk records by Huckle! Wild Blue Yonder expands a bit on the gentle acoustic songcraft of the earlier Upon A Once Time LP, still working in a largely acoustic mode, but with a more extroverted approach, with more percussion, some keyboards, flute, richer backing vocal harmony and a bit more of a working band feel than the more solo-feeling predecessor. A real winner, and the right mix of accessible tunecraft and adventurous spirit. Includes "Wild Blue Yonder", "Rolling River", "I Surrender", "Flower To The Sun", "She's Coming Home", "Beautiful You Are", "High For Sky", "Gather The Children" and "Wild Night".
Dusty Groove
Excellent 2nd from Canadian backwoods hippie folkie; very much an organic, communal feel, occasionally sounding like an unplugged Farm Band circa 'Up In Your Thing'. Title track is awesome folkpsych, pretty much by itself justifying the price tag, but this is great throughout, solid grower quality. Only 300 pressed, which is actually less than the number for "Upon A Once Time". Check out this clip for a taste of the Huckle scene (music is however off his 1st LP): https://www.youtube.com/watch?v=ES668mH2AIo "The man came this morning / with his papers in his hand / speaking words from the city / I don't quite understand" - hard times in the country, as the Traums would say!
Jens Unosson
reprinted with permission
Interview with Robert Williston
Hi Huckle, it is so good to be able to do this interview with you. Can you please tell me in which Canadian city were you born?
Oakville, Ontario, a sleepy little town of 3,000 at the time. We lived in an old farm house on the Eighth Line.

I believe you grew up in Montreal and Toronto. When did you become a hippie?
In the late sixties. But we didn't call ourselves hippies then. We were freaks.

What were your parents like? Were your hippie influences from your parents at all or was it your environment.
Environment. Toronto was a very interesting place in the late sixties and early seventies.

What were your earliest musical memories / influences?
I bought the Beatles' first record the day it came out.

When did you first start playing musical instruments; and what were they?
I started on electric bass in 1966, then flute, guitar, mandolin.

Did you receive any formal musical education?
I joined a boy's and men's church choir at eight, and received vocal and piano training. My actual first album was Hear My Prayer by Mendelsohn, with St. Matthias choir in Montreal. Only one copy though.

When did you first start writing?
I wrote poetry first, then began writing songs in 1969.

When and where was your first performance? Any stories?
Singing California Dreaming at summer camp, with a friend playing the guitar.

You were about 19 years old in 1973 when you first moved out west to Gabriola Island. Were you drawn there because of the Gabriola Island culture or did the Gabriola culture sort of turn you into a hippie?
I had been out to the west coast before, but not to the islands. I went to visit my friend Paul on Gabriola, and after traipsing around the coast I settled there for the winter.

Gabriola is a beautiful and quiet place. I bet it was a lot quieter when you first arrived,what were your earliest and fondest memories of Gabriola Island?
I arrived in Nanaimo on bathtub weekend. They were pretty excited about my hair. We lived at the stump farm on Gabriola, a little log cabin way out in the woods, no electricity, running water, or car.

How has it changed?
Four times as many people.

Have you ever rubbed shoulders with anybody famous there?
There wasn't anybody famous then. We were it.

Do you still live there?
I moved to Salt Spring Island in 1974, back to Gabriola in 1975 after returning from back east, then back to Salt Spring for many years in 1977.

Huckle was a band that featured yourself along with band members Paul Gellman, Michael Butler, Richard Keelan, all of Perth County Conspiracy. How did you meet these folks? How did you form the band Huckle?
Huckle was never a band, it was my name. A friend back east gave me the nickname after a character in a children's book, and I began using it myself when I came west. I used to organize festivals in Toronto at Bathurst st. church, and Perth was one of the many bands that played there. The recording of Upon a Once Time happened on one of Perth County's western tours, which I helped book some venues for. Paul and I played together, then he went back east to join Perth County.

Your internet site indicates that your first album was pressed in 500 copies and your second one in 300 copies, but I have seen way more of the second album around than the first. Could be because there are less people willing to part with it, but how sure are you of these numbers?
The numbers I'm sure of, the rest is a mystery. I first became aware the albums had become rare vinyl about ten years ago. I had no idea.

Your album Upon a Once Time is considered to be the rarest and best Canadian hippie folk album in existence, certainly in Canada, but perhaps worldwide. I have seen it sell for $800.00! Do you still have copies of your early albums?
I have personal copies. I sold the remaining eight virgin copies recently for a lot of dough.
The album was a home-made primitive hand written paste-on cover. Do you remember who designed the jacket?
I did it with Tommy and Kjell, the photographer.

Please tell me about some of your most memorable experiences while playing in the band Huckle.
The band was actually called Wild Blue Yonder. We did a cross Canada caravan tour in 1975, then a Western Canada tour the next year. We had a lot of nerve.

In 1974 you moved to Salt Spring Island. Please tell me about your experiences on this island and your time with the Sodbusters.
The first day on Salt Spring I met my future wife, band, home, and more. I still live here now.

Do you still keep in contact with anybody from those early days?
Yes I do. Dan Pedrick from Sodbusters helped me sell the rare vinyl albums.

Are you still a hippie?
I'm a lapsed hippie.

Your third album with Real Fantasy was only sold on cassette. Will it be available on your website?
There will be some songs from Real Fantasy, including Angeline which is on youtube right now.

For how long have you been performing as KC Kelly? How many CDs do you have and are they available?
Since the late 90s. I have three cds on cdbaby, http://www.cdbaby.com/Artist/KCKelly

Huckle, thank-you so much for doing this interview with me. Take care
Reprinted with permission from
http://www.mocm.ca


From the Web
Huckle  Wild Blue Yonder
"The vinyl this track is from is one of those ultra rare collector items that goes for triple digits if you can ever even find it. But in this case the hype is undoubtedly worth it (if you're into this kind of thing). This track (and the whole album really) just nails that early 70s southern folk/rock sound; made by a Canadian of course (see Neil Young, The Band, etc.). How Huckle never made it to the level of those guys is a mystery (probably something to do with the rarity of the recording)."

Bryan Rhodes, quakeronfire.podomatic.com
"I think this is superb. Excellent harmonies and great acoustic guitar. I mean this is really good, one of the best I've had the pleasure of listening to in a long time!"
"Pastoral hippie-folk delvin' for organic/cosmic sceneries. Full-band sound with subtle acoustic/electric tapestries."
"Folk rock from the seventies. A slight cosmic touch and lyrical themes of a lofty nature make this a pretty nice and emotionally authentic piece of hippiedom."
"MASTERPIECE!"
"This album is amongst the rarest and most sought-after albums in existence."
"Canadian Hippie Folk from 1976. Excellent music for the road, this rare and hard to find album is a perfect example of folk and rock made by a bunch of hippies in the seventies. The words are of love and tolerance, and free life and travelling, while the music suits the words well and transcends all of their messages flawlessly. Acoustic guitar and haunting fiddle, tablas and vocal harmonies of great and natural honesty of happiness from both the male and the female parts, it is one of the best albums I have heard in quite a while and it holds a strong place in my music collection. A must have classic!"
by bilbo1742
and the asian translation!
"9 from Canada, psychedelic / HIPPIE folk band Huckle is a lot of vinyl collectors that are the best fans in Canada 70's Ballad band, while they are the only two records are said to have Scoop thousands of dollars. If the published 74 years Homespun debut album, "once upon a time" shows the creation of pure folk Huckle skill, then this private production and distribution of the "Wild Blue Yonder" is even more to show preference for their psychedelic music , first with music from the first space in a similar rhythm KRUTROCK know, of course, ultimately, as i surrender this soft pure ballads."
"Acoustic Guitar, tabeulra, pideul and female vocal harmonies of freedom and travel, love and patience, and a message about the life of a hippie ruralhan draws are good. Sound behaved like a successor of a hippie family keonteuribaendeuin Sodbusters country have been added, and a mood or a hippie folk SSW streets of the old bus, big projects, rather than jeu musical flow of the small, cozy feeling of a rich and brilliant sound is accidentally come into contact."
Performance Highlights
The Yellow Door, Montreal
Rose's Cantina, Morin Heights
Thog Festivals, Bathurst St. Church, Toronto
Black Swan, Stratford
Smale's Pace, London
Catharsis, Windsor
Northern Lights Folk Festival, Sudbury
Home County Folk Festival, London
Down to Earth Festival, Aberfoyle
Ting Tea Room, Winnipeg
Regina Folk Guild
University of Saskatchewan, Saskatoon
The Hovel, Edmonton
NAIT, Edmonton
University of Alberta, Edmonton
Sancious, Calgary
University of Calgary
Bow River Folk Arts Faire, Calgary
Banff School of Fine Arts
Notre Dame University, Nelson
Earthly Delights, Nelson
Village Green, Kaslo
Selkirk College, Castlegar
Bear Creek Faire, Surrey
Classical Joint, Vancouver
Cypress Room, West Vancouver
City Meet Market, North Vancouver
Deluxe Christmas Pleasure Faire, Vancouver
Easter Be-in, Vancouver
Soft Rock Cafe, Vancouver
Commodore Ballroom, Vancouver
Vancouver East Cultural Centre
Brackendale Art Gallery
Campbell River Centre
Comfort Soap Farm Festival, Courtenay
Renaissance Faire, Courtenay
Arts Alliance, Courtenay
Civic Centre, Courtenay
St. Andrews, Nanaimo
Fulford Hall, Salt Spring Island
Beaver Point Hall, Salt Spring Island
Festival of the Sun, Duncan
McPherson Playhouse, Victoria
Open Space, Victoria
Prancing Pony, Victoria
James Bay Inn, Victoria
Norway House, Victoria
University of Victoria