kelly baby
 Born Kelly Cavanagh in Oakville, Ontario 1954, Kelly grew up in Montreal. At the age of eight he began classical voice and piano training, and joined St. Matthias church choir singing soprano. He sang and toured with the choir for five years, including the New York World's Fair in 1965.  He eventually became head boy and recorded an album of the anthem Hear My Prayer by Mendelsohn.
His first secular appearance was open stage night at boys' summer camp. With a friend playing guitar accompaniment and his new white sneakers on, their rendition of California Dreaming was only memorable for him because someone had pushed him into the swamp outside the hall before the show. One shoe brand new, the other looking like swamp thing had been all over it (and smelled really bad). At about the same time Kelly began playing electric bass, in 1966. Big influences at the time - the Beatles, Herb Alpert, Frank Zappa, Paul Revere and the Raiders, Lovin' Spoonful, anything Motown.
Moving to Toronto with his family in 1967, he joined his first rock band, playing bass. He joined school band to avoid cadet training, choosing flute as his second instrument. After buying an acoustic guitar and some fingerpicks, he consented to taking lessons but only lasted five sessions. He moved up to a Fender Precision bass for his main instrument (bought from Bobby Curtola's bassist!). Big influences from live shows attended - Sly and the Family Stone, Jimi Hendrix, Taj Mahal, Dr. John, Sonny Terry and Brownie McGhee, Jesse Fuller, Bruce Cockburn, Eric Clapton, and from recordings Mississippi John Hurt, Leo Kottke, Fred Neil, Gordon Lightfoot, Van Morrison, The Band, Jethro Tull. He bought his first brass bottleneck slide and started fooling around with open tunings, and began to write the first of what would be many hundreds of songs.
buck creek on water street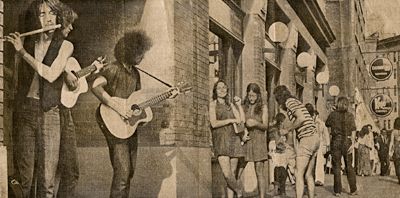 photo vancouver province
 Kelly continued playing bass and some flute with a garage band. The repertoire was mostly electric blues, but with a twist. The rhythm guitarist had a room mate with an extensive record collection which they plundered for unusual and obscure blues songs to cover. At the same time Kelly moved toward folk and acoustic music, going to shows at the Riverboat and Mariposa Folk Festival. In late 1970, together with two friends he created Buck Creek, an original acoustic folk trio. All three sang lead vocals and harmonies, with six and twelve string guitars and Kelly playing flute and some bass. At the time there was nowhere for a folk trio to play in Toronto. The band drove out to Vancouver in summer 1971 and landed a one night a week gig at a pizza joint in Port Coquitlam. They also did free concerts at People's Park and street performing in Gastown and English Bay. At the end of the summer all returned to Toronto, but Kelly knew he would come back to the west coast.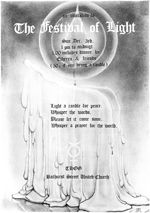 artwork hugh syme